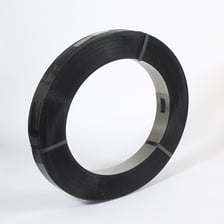 Steel strapping has been the benchmark strapping/unitizing globally for many years which is now rapidly being replaced by PET in many industries, however FROMM still recommends the use of Steel for many applications such as high temperature environments and bundling heavy duty loads. Steel is still used in very small products such as pipes and tubes, and also in hot environments where the strapping is in contact with hot products.
All FROMM steel strapping conforms to ASTM specification #D3953-12. FROMM steel strapping is consistent in width, gauge, and finish. Published break strengths are average and meet or exceed industry standards. FROMM stocks both regular duty and high tensile at several locations. In addition to the stock sizes listed, we can also supply specialty products on request.
Regular Duty Steel Strapping



Regular duty steel strapping is manufactured from cold rolled steel. All FROMM regular duty steel can be used in manual and pneumatic tools, as well as automatic steel strapping heads.



High Tensile Steel Strapping



High tensile steel strapping is manufactured from cold rolled steel and heat treated to maximize break strength and ductility. High tensile steel provides additional break strength and shock resistance for your toughest applications.



Portable Cartons



Steel portable coils are used in a variety of applications where a full coil of steel is not needed or is not practical. All portable coils are ribbon wound in a self-dispensing carton.
The standard finish on FROMM steel strapping is black, painted, and waxed. Alternative finishes are available on request.
REQUEST QUOTE