Strapping has become ubiquitous for many industries, it is often an essential part of packaging to transport goods intact and undamaged. It is a cost-effective method to ensure the security of cargo over different modes of transportation.
Strapping tools are designed to streamline your industrial strapping processes. The increased speed, tension capabilities, and reliability allow these manual and powered tools to help reduce the time spent on operations, wasted materials, and worker fatigue.

How Can Fromm Help Get Your Strapping Tool Fixed?
At FROMM, we make strapping tools that are built to last. Most times, they are immune to the ravages of wear and tear.But, like most products, strapping equipment works best with regular care and maintenance to keep it working at peak performance. Apart from basic cleaning, other more complicated tasks are best left to the experts.
Tool Issues And Troubleshooting Techniques
While we do not recommend opening up strapping tools without prior knowledge, some problems can be easily rectified. Here are some basic strapping tool issues and how you can deal with them.
Strapping Tool Doesn't Work at All
If you find that the tool doesn't operate at all, there could be several different reasons. The battery could be drained, defective or not making proper contact in the case. Check to make sure the battery charges properly in the charger and the battery seats properly in the tool. Sometimes, simply removing the battery and reseating it in the case is enough to ensure proper contact points. If you have a spare battery, try it in the tool, sometimes batteries can appear in working order but are actually defective. If your tool still doesn't work, it could indicate a much more serious problem like a defective motor or circuit board. Fill in the tool repair request form and we can assist you with the issue.
Tensioning Strength is Inadequate
If a strapping tool does not have adequate tensioning, after adjusting the appropriate settings, it could be because the tensioning wheel is dirty or worn out. Often, an issue like this causes the strap to slip as the tension of the strap increases. Sometimes blowing air into the area is enough to remove the debris. If you have enough expertise, you could clean or replace the grippers as required. Care should be taken not to use any hard objects during this process. Sometimes, tensioning strength can also be due to a faulty microswitch or a circuit board. In these situations, the tool will need to be sent in for servicing.
Strapping Tool Does Not Weld
Many different components within the tool work together for a proper weld. If after adjusting the tool for welding time you still have problems, the tool may need to be serviced. Once again, try blowing the tool out with air. If that does not work some components such as grippers, springs or motors may need to be serviced. This is best left to a qualified service technician.
Tool Does Not Cut
The tool's inability to cut the strap can mean wastage of time and material. Checking and adjusting the cutter can usually solve this problem. You could also try cleaning it, failing which, it might be time to replace the cutter. It might also be a problem with the pressure spring, and it may need to be replaced. Fill in the Tool repair request form and we can assist you in fixing these items.
Send - in - Tool Repair Process
Getting your tool fixed by a strapping expert has become much easier with the Fromm Tool Repair Request page and simplified repair process. Letting professionals handle your strapping repairs guarantees quick turnarounds and minimal loss of business.
If all of your troubleshooting efforts fail, and you are not able to get your strapping tool working, we urge you to get in touch with us so we can help you or send your tool in for repair.
Sending over the tool to us is an easy process. Pack the tool carefully, making sure that you drop in your business card as well. You can also fill in the form on our Tool Repair Request page and one of our FROMM experts will contact you.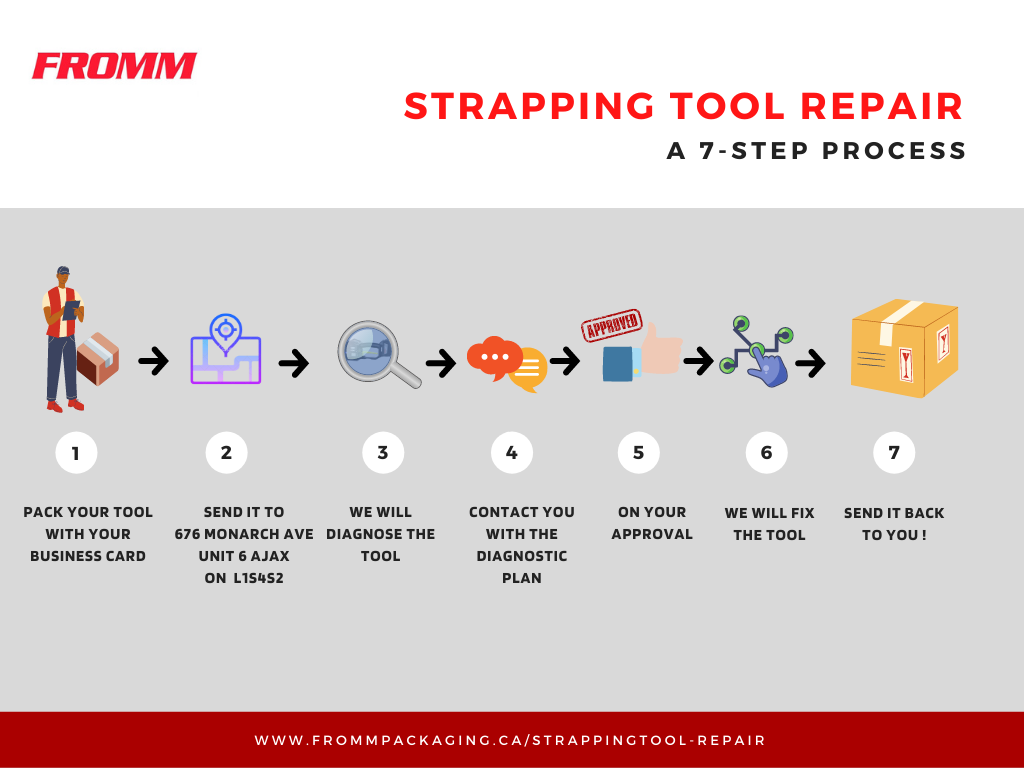 Diagnostic Plan And Estimate
Once we find what is wrong with your strapping tool, we will get in touch with you about the necessary actions. This is where we discuss how we handle your tool's repair process. You will be presented with our diagnosis and plan. We will also apprise you of the tool repair estimate. Once you agree to the process, we will start on fixing your tool and ship it back to you as soon as we're done.