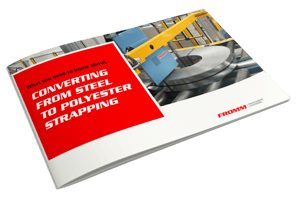 In the past, the only option you had was to use steel strapping for your packaging. Today, plan managers like you have a much wider range of choices.
How do you know if polyester strapping is the right choice?
This guide will walk you through the key considerations you'll need to keep in mind as you think about making the switch, as well as the five-step implementation process.
In this e-book, we take a look at:
The advantages of polyester strapping
When to use steel vs. polyester strapping
Challenges in switching strapping materials
The five-step process for making the switch
And more!
Download this e-book to learn why polyester strapping could be the right choice for your packaging.